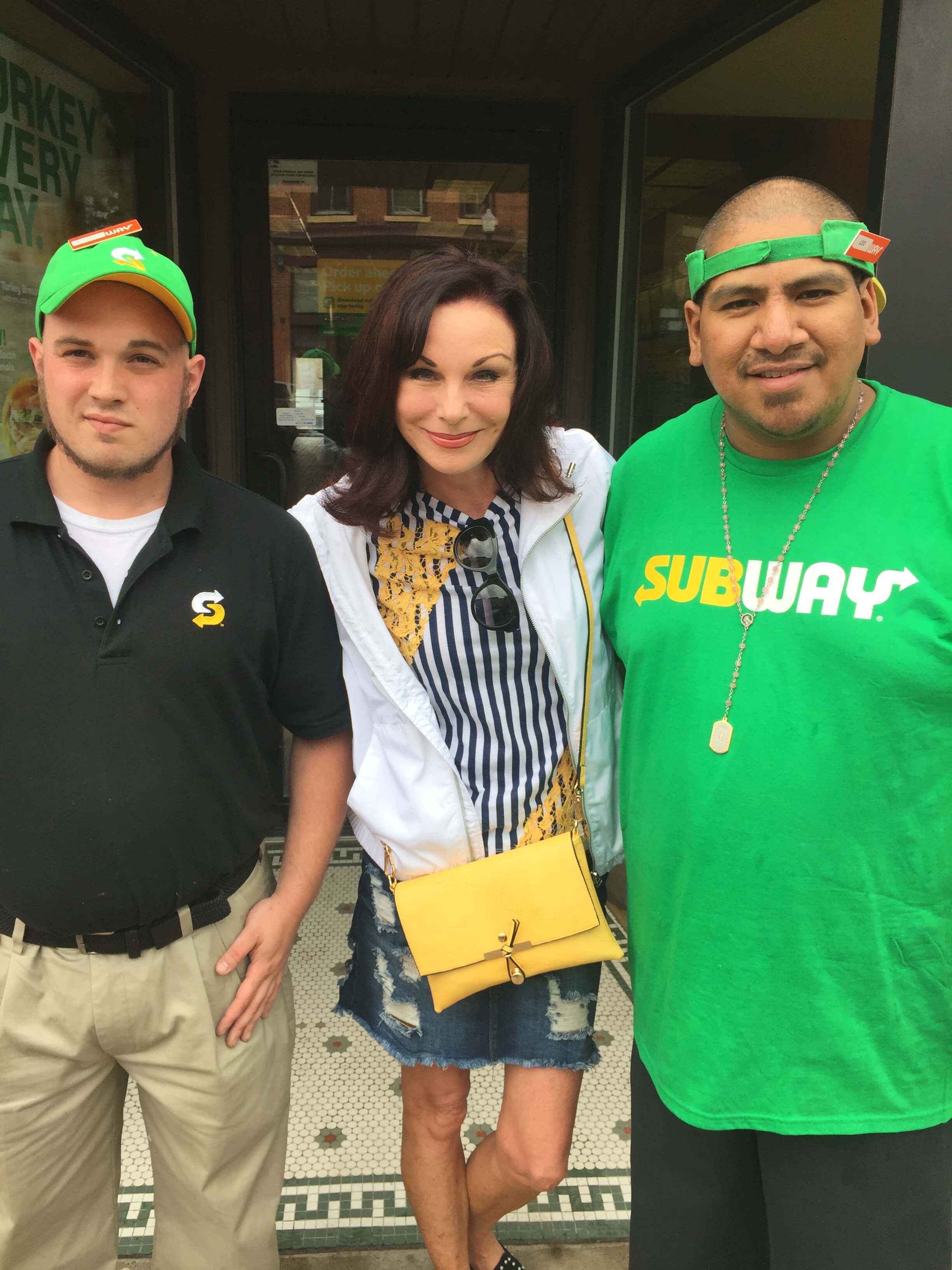 Lately I've been sharing road stories on my solo piano Simply Grand tour. It's really fun and sometimes quite funny because, after all these years, I have so many stories to share . . . everything from bats dive-bombing me on stage, to having my bus stolen at intermission, to flooding an entire backstage area (because I hung my dress on a fire sprinkler head . . . yes, they work), to dealing with psycho bus drivers . . . so many stories.
Well, I have a new one.
A few weeks ago we went out (just the "Three Amigos" - my assistant Michele, Tim and me) on a little weekend tour in a rental truck (with the piano in the back, of course). Our first stop was Faribault, Minnesota. An easy drive. The old theatre was located downtown so we pulled up around noon, walked in the front door and checked it out. We always first explore how we'll get the piano up to the stage. Well, this day, which was day number one on the tour, we knew it was going to be challenging, but the staff had assured us before we arrived that we'd have six volunteers waiting to help us out.
No one showed up. Not one volunteer. So, in this case, as you know, I always send cute Michele out on the street to find guys to help us move my piano up the ramp and onto the stage. For this move on this day, because it was steep, we'd need four or five guys. The potential of finding candidates in this downtown area did not look promising. So Tim and I joined in with Michele on the hunt, all splitting up with phones in hand so we could text each other if and when we found a volunteer.
I was by myself and the street I first turned onto was so promising. I giggled because if it was a contest (which sometimes it is), I would win. There it was, a big, beautiful sign in bold blue letters.
POLICE DEPARTMENT.
I went inside to the front enclosed window and was greeted by a younger girl. I asked if there was anyone available for just 10 minutes to help us push a piano up a ramp onto the stage in the old theatre around the corner. She was obviously not very excited, but I'll give it to her . . . she at least went away for three minutes pretending to inquire about my unusual request.
When she reappeared at the window, I knew it wasn't promising. "We don't do this type of thing. I suggest you go down two more blocks to the FIRE DEPARTMENT."
Surely the Fire Department would help us! They "do that type of thing." So, I ran out and saw Tim (who still had no luck) and shared this new plan. Tim thought the idea was brillant. We quickly walked two blocks to the FIRE DEPARTMENT and rang the buzzer both in the front and back of the building. No one was there. We called and heard the phone ringing. (The ringing was us calling them.) The answering machine came on saying no one was available.
So . . . back to the POLICE DEPARTMENT. Surely they could find someone to help us. When we walked through the front door, the same girl had that same look on her face. Once again she told me "we don't do that type of thing."
We were running out of time. Now I'm getting nervous.
Now what? We walked out of the POLICE DEPARTMENT and here comes this kid down the street, kind of rough looking, pants sagging, hanging low, hat on backwards, smoking a cigarette. He walks by us with swagger and Tim says, "hey! Would you mind helping us move a piano up to the stage in the theatre around the corner?" The kid looked us up and down (like we were crazy), tossed his cigarette, and said, "sure."
"What's your name?"
"Brandon."
Oh my gosh. We were so excited to have someone. But we needed at least four more people to make it work. So I said, "do you have a friend, someone who could help us?" We're walking fast now.
"Oh yea. I've gotta guy."
Brandon happened to be the manager of the SUBWAY, located across from the theatre. He said he'd go and get his friend who was working with him that day. He said he was big and strong.
Sure enough, here they come in their SUBWAY green t-shirts, and the "guy" is perfect. Yes . . . big, mean-looking, tattoos everywhere, shaved head, noticable scars. Tough. And strong. He wasn't from around there. He definitely had a story. He'd been somewhere.
Perfect.
About this time, Michele texted and she had two guys, so we were set! The show was going to go on.
My two rough and tough friends from the SUBWAY walked into the theatre with me and I showed them what we were going to do. I was by myself with them because Tim went to gather up Michele and her two pals. I was slightly uncomfortable because, well, I guess I just felt small.
We always put the biggest guy at the top of the ramp on the stage to pull, so that's where we'd put Brandon's friend. I set him up and then asked him his name.
"My name is Leo."
Leo was confident he could pull the whole piano up by himself. He probably could. I was in cut-offs that day and a T-shirt, tennis shoes. I stood off to the side of the ramp, waiting for Tim to (please) reappear soon. While we were waiting, Leo started in.
"I just have to say it. I get things off my chest right away. I'm that kind of guy. When something's on my mind, I just say it. I've always been that way. So I just want to say it."
I'm scared. I'm thinking we already have a problem and we haven't even gotten started. "OK . . . " I say.
He pauses, thinks about it, looks around, and then says it. Just blurts it out.
"You're a very beautiful woman."
I take a breath. I do not know if I want to laugh or cry.
And then he says, "are you married?"
And at that very point in time, Tim walks in with Michele's friends and runs down the aisle.
"Well, yes, that's my husband right there. His name is Tim."
"He's a very lucky guy."
OK . . . now I'm laughing.
We move the piano and in just three minutes, it is to the stage. Leo says he wants to see the piano come out of the case, help tip it. He's standing next to me now. And I'm comfortable.
I ask him. "What's your story? You're definitely not from around here."
Yes, Leo had quite the story.
Leo was from California. He said he'd been in quite a bit of trouble, belonged to gangs, sold drugs, and ended up in prison for three years. His dad had committed murder and would be in jail for life. Leo decided after he'd gotten out of prison that he didn't want to end up like that. He would change. So, he decided to quit the gangs, quit the drug dealing. But it didn't work. A few months later he was back in the gangs, back selling drugs, and this time the "Feds" came knocking on his door. He was in big trouble.
In the middle of his sentence, he turned and looked at me very seriously and said, "are you a faith person?"
Indeed I am, Leo.
Leo had a choice. Either 10 more years in prison, or move to Minnesota and join Minnesota Adult & Teen Challenge, a wonderful faith-based addiction rehab center with a fabulous support program. Leo decided on the obvious.
"John 3:16 - For God so loved the world, that he gave his only begotten Son." "That's my favorite scripture," says Leo.
Leo proudly announced he'd been in the program and clean for three years. "I'm a people person!" Leo was speaking in churches, telling his story. He pointed to the scar above his wrist and said his uncle had tried to cut his hand off. The scar around his neck was from a box cutter. All part of his story.
After we tipped the piano, I invited Leo back to load the piano back into the truck after the show at the end of the evening. I have to admit that he came into my mind while playing the piano (for a wonderful crowd) that night many times. I was anxious to see him after the show.
Leo did not show up.
I was bummed.
We moved on to the next city. The next show. I thought about Leo for many days.
Two weeks later, we just so happened to drive through Fairbault. I was on my way to a church appearance in Nemaha, so we stopped in to see if Brandon and Leo were there making sandwiches. Sure enough, both were working that day. Tim ordered a sub sandwich and I asked if they'd take their picture with me. They paused and popped outside on the street below the SUBWAY sign and Tim took a quick photo of us with my phone.
I asked Leo why he never came back that night. He said he had a part-time job (on-call) where he delivered hogs on a hog farm. He'd gotten a call that night and had to make an emergency run out to help deliver a piglet. He didn't have my number and had no idea who I was or how to call me.
I was so relieved. We quickly caught up and he said he was speaking in church the next day. Telling his story.
I have to say I was tearfully proud.
So. . . hey, everybody . . . meet my new friend.
Leo.
Just another day in the life of Lorie Line.

Pictured above from left to right: Brandon, Lorie . . . and Leo.