CELEBRATING THE 30TH YEAR ANNIVERSARY OF THREADS OF LOVE/Fall Blog 2022
THE STORY
In the very early days at Dayton's, I remember taking over at the piano for one of the more experienced pianists at the downtown Minneapolis store. Her shift was up and I was next to serenade shoppers. She was in a hurry and couldn't chat long because she was off to play a private party that night. A private party? I asked her how she got hired, and she told me that merely placing a business card on the piano got her the job.
Oh, I was excited! I could do this! Surely I could play private parties! I would get all dressed up, and make my way into some of the most beautiful homes in the Twin Cities to play for them for a few hours on the piano. The food! The beautiful people! The spectacular homes!
Hopefully I would get hired.
So, I printed business cards and started putting them out on the piano every time I played. And just in case, I brought my day timer along with me.
Sure enough. Bam! I got hired. I was off and running.
I started supplementing my meager department store income. I worked every job that was offered to me.
In the five years that I played for Dayton's, I was hired for over 300 events. Some days I played the piano 11 hours. I'd play five hours for Dayton's, then hop in my car and go and play two back-to-back holiday parties. I'd get home at midnight. It was certainly an exciting time in my life and to this day, some of my favorite moments of playing the piano were during these years. (And I still have some of the friends who took a chance on me, and hired me to play for their special occasion.)
Some fans started "memorizing" my schedule. I always played at Southdale on Sunday afternoons. Sometimes people would be waiting for me and they'd stay and listen (standing) for a couple of hours. We'd get to know each other through my music, I made hundreds . . . maybe thousands of friends.
One Sunday afternoon at Southdale a young man walked up to me and asked if I played for weddings. Of course! He told me the date he was going to get married and I opened up my day timer and booked the date.
I wondered why the groom was hiring me. Typically it was the bride (and her mother) that would come and see me. Well, I could tell that Ric was up to something special. He took a breath and asked if I would consider writing an original song for his bride for their wedding day. It would be his gift to her. I definitely was all in, and he happily walked away.
A few months later, as the wedding was approaching, I started to work on the original song. Nothing would come to me. I sat down several times and struggled to even come up with a single pretty melody line. I guess I just wasn't inspired because I didn't know the bride. And I knew nothing about her, just her name.
Pam.
The wedding was coming up on Saturday, and Ric called me on Wednesday and asked if he could come over and hear the new song that I would be playing for his beautiful bride. I struggled to come up with words. I can only recall saying, "Ric, I am just putting the final touches on the song . . . and I want it to be a surprise for you too."
"Oh, and by the way, can you tell me more about Pam?"
Ric told me that his bride was a talented seamstress and quilter who loved to create clothing for family and friends. In that instant, I was flooded with memories . . . the sound of my mother's sewing maching whirring in the background at night as I drifted off to sleep . . . waking up the next morning to find a new outfit hanging on my bedroom door. Shopping for fabric. Recital dresses, competition dresses . . . my mother spending endless hours at the sewing machine.
You see, my grandmother was the one who taught my mother how to sew. And when I was little, my grandmother made many dresses for me. She always saved a remnant. And when I turned 21 years old, she put all the dresses into a quilt and gave the quilt to me as a special gift for my birthday.
All these memories flooded back to me in that five minute conversation with Ric.
And now I knew Pam. I loved her!
That night I sat down at the piano. In 10 minutes, the composition "Threads of Love" came to life.
Three days later I played the song at their wedding. It was a hit. Many people came up and encouraged me to record the tune. So I did, and I took a picture of the quilt that my grandmother made me and it became the cover for the album.
In 1992 we released the album, Threads of Love, and it took off in gift stores across the country. That led to major retail interest, which put us on the map in the music world. (Musicland was the giant in the industry and the first large music store to carry my music. The remaining retailers in the industry all followed.)
Never in my wildest dreams did I imagine this song would launch my career and become my signature piece.
This year we celebrate the 30th year anniversary of a pretty song, dedicated to a woman I never met . . . until her wedding day.
To Pam.

CONGRATULATIONS TO RIC AND PAM FOR NOW OVER 30 YEARS OF MARRIAGE!
TO LISTEN AND WATCH LORIE PLAY THREADS OF LOVE ON YOUTUBE CLICK HERE
TO PURCHASE SHEET MUSIC, CD OR DIGITAL THREADS OF LOVE SHEET MUSIC CLICK HERE
PICTURED BELOW (six photos)
Lorie with her mother and daughter - featured Threads of Love article December 1998 in AMERICAN PATCHWORK & QUILTING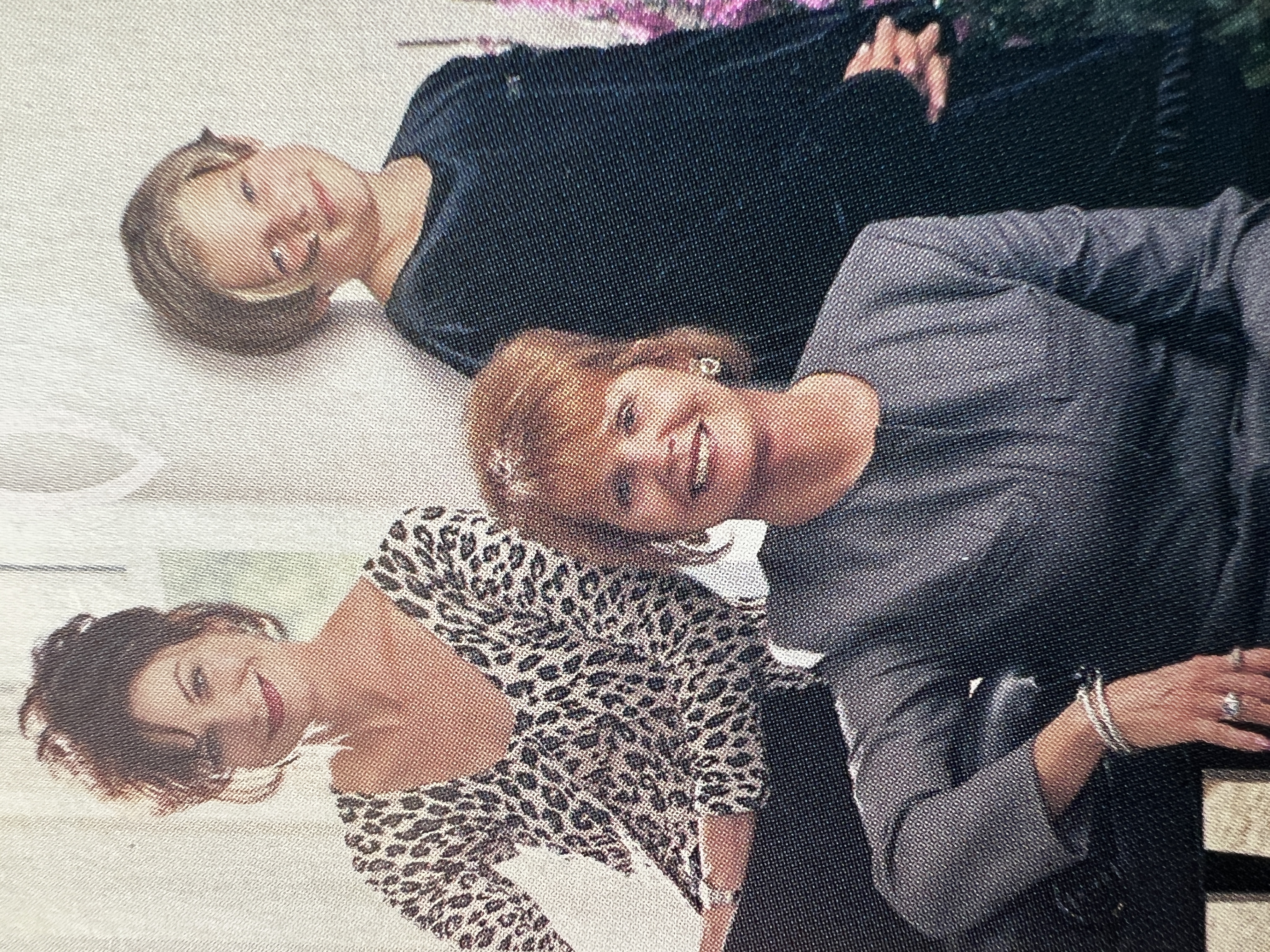 Lorie and her (85-year old) mother. Photo taken 22 years later, this summer (2022) in Reno, Nevada
Lorie with her day timer (and business cards) at Dayton's 1988-1993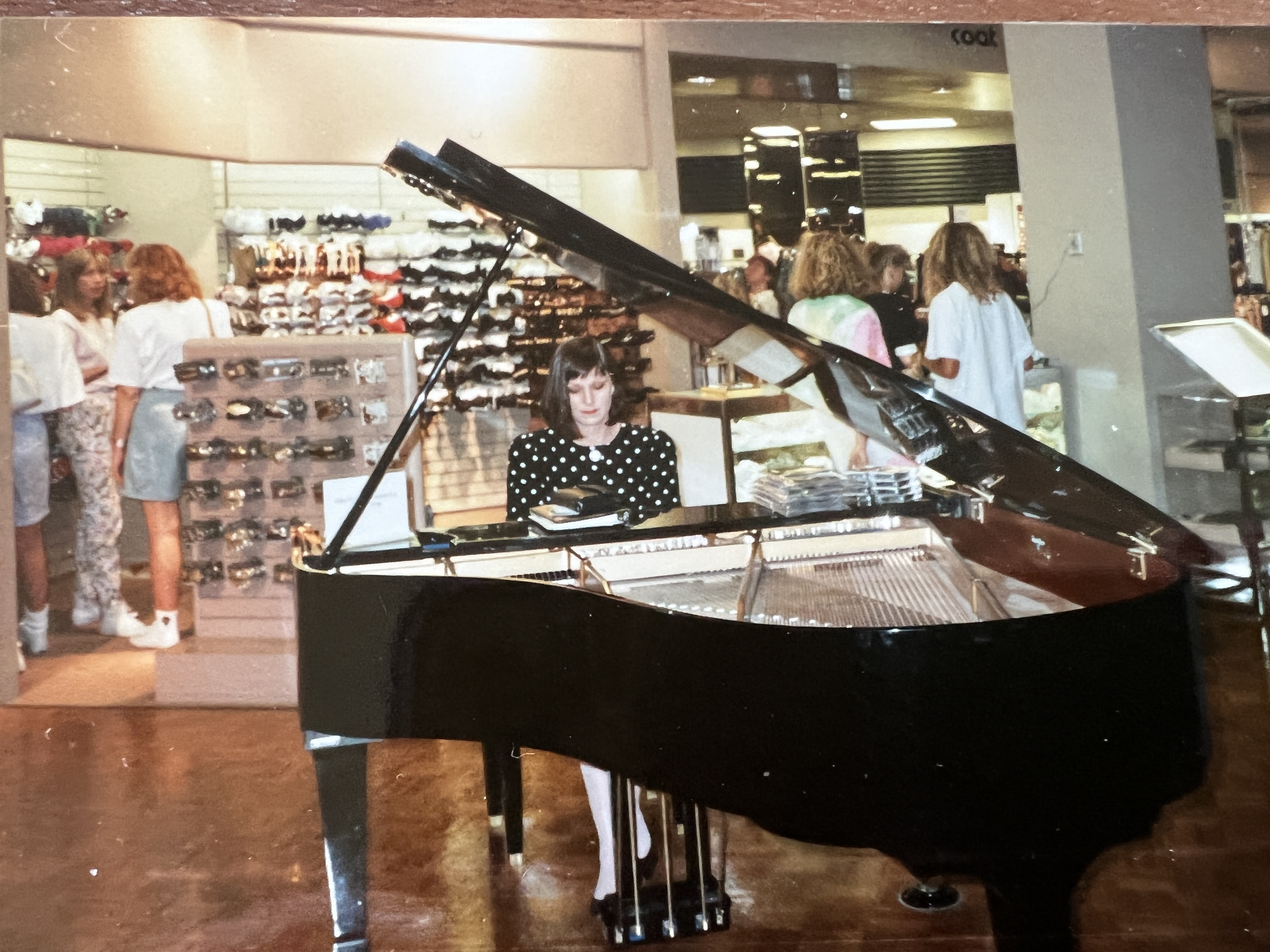 Customers standing at Dayton's listening to Lorie 1988-1993 (notice the day timer in the piano)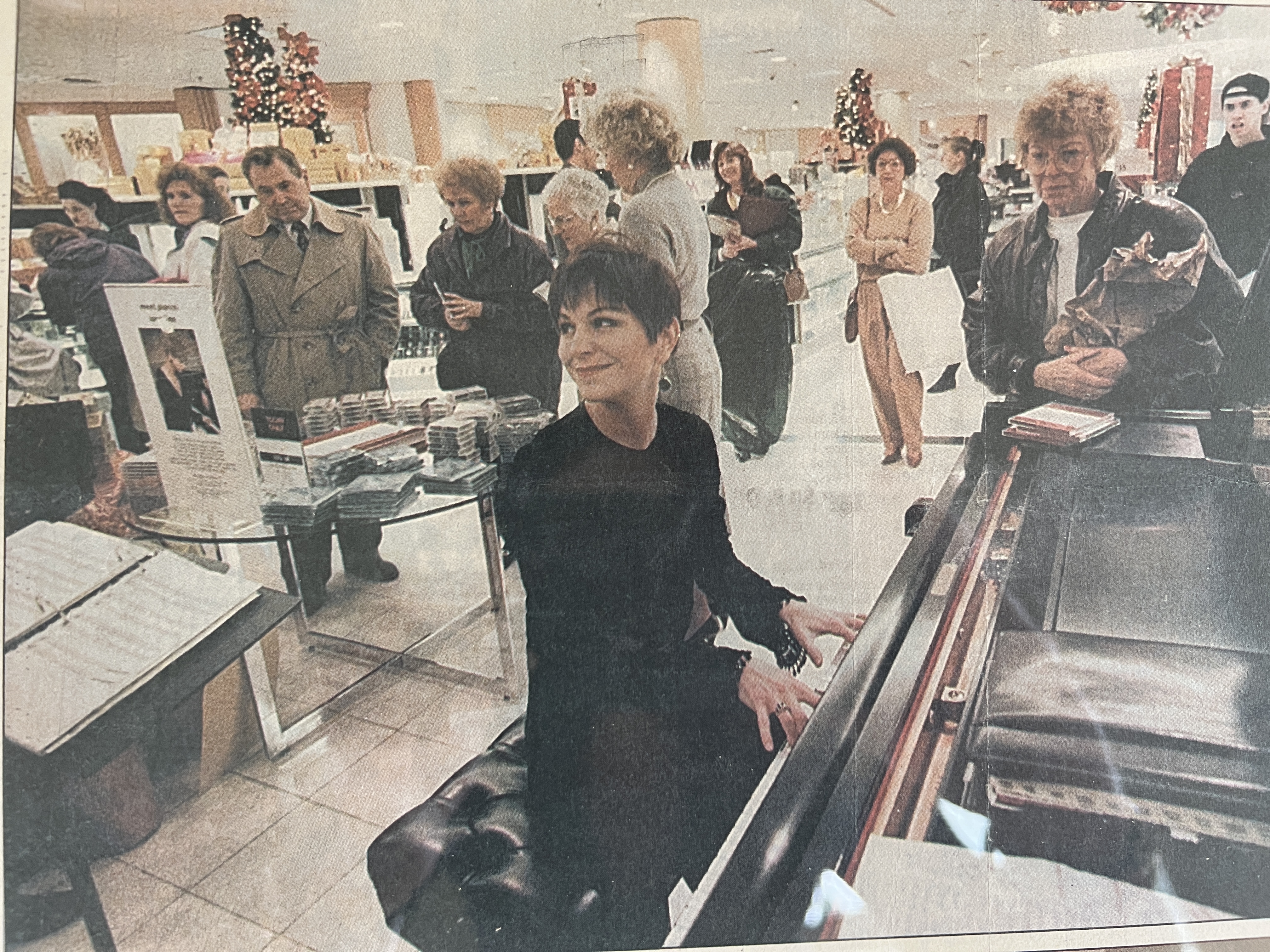 Lorie's grandmother who made the quilt (Frances Mann) and gave it to her in 1979
Ric and Pam's 1991 wedding picture